A Labor Of Love In Every Bite
We knew right away that Brick Osteria was not going to be an ordinary dining experience. With a menu as creative as this one, it was an instant connection for all of us. Seasoned restaurateur Michael Tizzano—recognized for his success with Romantico and Sisina— can truly be called a culinary artisan as his signature dishes range from the classics to nouveau Italian—something for everyone! Located in uptown Port Washington, Brick Osteria is swiftly becoming the hot spot of Main Street. Whether you are just going for a stroll in town or hopping off the train after a long day, this is the quaint little place to unwind with a fine glass of wine and enjoy a memorable meal that always leaves patrons begging for more.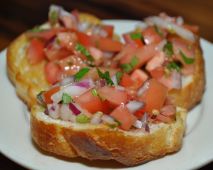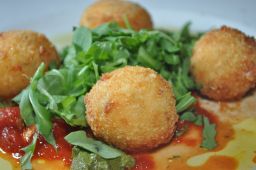 It wasn't just the menu that tantalized us, it was the ambiance—a rustic yet chic backdrop with a flair of soft industrial lighting throughout the space. With the help of design diva Regina Kaylie, the place was brimming with charm and warmth. It was refreshing to see the bar separate from the restaurant which created a unique environment for both spaces.
The bruschetta (above left)—which is gratis—was delivered immediately. We could see why neighborhood folks flock here to taste the toasty bread that is loaded with flavor. This bruschetta was boasting with basil and the ripest tomatoes—both complementing each other beautifully. It was a perfect prelude to the Arancini Risotto Rice Balls (above right). This one was unequivocally deemed as an exceptional balance between the creamy parmesan cheesy center with the crispy outer shell—simple yet superior in every way. Here, a little color goes a long way with a coating of pesto sauce that is melded with a very light puree tomato sauce and topped with arugula—a real melt-in-your mouth experience.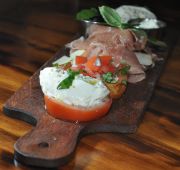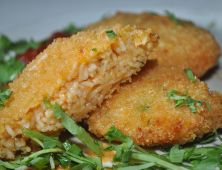 Out first appetizer was the Salumi board (above left)—which was definitely something to write home about. It was a plethora of cured meats including prosciutto, soppressata, capicollo all served with assorted cheeses, olives and grilled Tuscan bread. In the center of it all was the real prize, a generous portion of Burrata cheese—mozzarella cheese with an ever so soft and creamy center. We enjoyed how the calmness of cheese complemented the robust flavors of the meats in the most delicate way.
If that weren't enough, the fried Capellini (above right) really caught our attention. Like the risotto, the Arancini was a mouth watering experience for us. While texture played a key role with this dish, the flavor of the sauce with the pasta was all wrapped up in a crispy shell. The sauce was so good it set the tone of what was to come.
Expect the unexpected with their roasted chicken wings topped with caramelized onions and gorgonzola dipping sauce (below left). Tender, juicy and sweet—a trilogy of goodness that was a healthy alternative to the traditional fried wings. We cajoled Michael to share the secret of the sauce with us which is garlic, white wine and olive oil all marinated with fresh herbs. Whether you take a tray home to share with guests or to sit at the bar for a little nosh, this one is a definite crowd pleaser.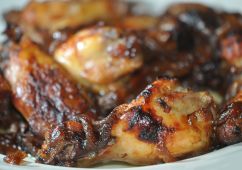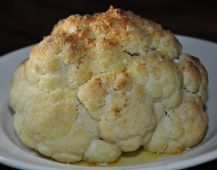 Presentation, presentation, presentation! The roasted cauliflower had the most garden fresh appeal (above right)—a full head of cauliflower never looked or taste so good! It's a fabulous choice for those vegetation eccentrics out there. This brick oven roasted cauliflower creation sprinkled with parmesan cheese delivered wholesomeness in every bite—like something from the earth magically morphed into a masterful culinary creation. It was served with a creamy whipped goat and feta cheese spread that was full of flavor. We thought it was great for sharing or a perfect side dish—especially for the cauliflower connoisseur.
Another earthly delight was bestowed upon us with the Mushroom and Burnt Broccoli Flatbread (below left). Made with mozzarella, parmesan cheese and roasted garlic—all bringing the flat bread to life. The crust was crispy and paper thin while the combination of the white button mushrooms with the burnt broccoli was bursting with flavor bite after bite. There was a side of tomato sauce for dipping—a little something extra to please the palette. Another alternative for the health conscious crowd and vegetarians at heart.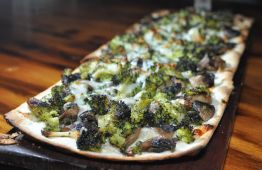 It was love at first sight when not one, but two Paccheri dishes arrived—both with imported pasta from Italy. The first pasta dish had shrimp, zucchini and roasted cherry tomatoes soaked in a zesty lemon sauce with a touch of cream (above right). We loved how the smoothness of the sauce collaborated with the firmness of the pasta—al dente all the way! A cousin to the former, is the Paccheri Con Fava Beans—another distinctive pasta with the guanciale (Italian sausage), fava beans, cream and a dash of black pepper. Both dishes were very delicate and unique in their own rite.
For all you meat and potato lovers out there, this one's for you— The generous Lamb Ossobuco glazed with a very special brown sauce and served with velvety garlic mashed potatoes (below left). We could hardly contain ourselves with the amount of flavor in each bite. Slow-cooked, fork tender and savory rich gravy took this dish to another level.
It was from land to sea with colossal size pan-seared scallops (below right) atop with Arborio risotto, gorgonzola sauce and crispy bacon called Capesante. The scallops were tender as tender could be while the risotto had a creamy texture reminiscent of tapioca pudding.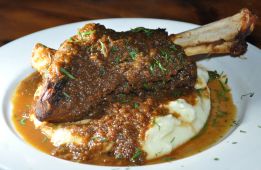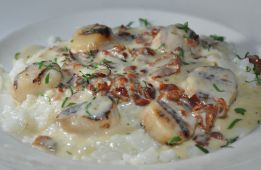 The moment we all were waiting for finally arrived when we were served with a trifecta of sweets to please the masses. Made in house, the Tiramisu was a slice of heaven on a plate (below). Lady fingers drenched in espresso are layered with smooth mascarpone cream, cheese sauce and a touch of amaretto, all topped off with cocoa powder and drizzled with chocolate sauce—an irresistible combination.
Not only a fantastic out-of-the box menu, but Brick Osteria also promotes five dollar drink specials and a very extensive lunch and bar menu that should not be passed up. Brick Osteria truly delivers a little taste of Italy right here in Port Washington.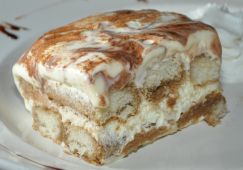 Overall Rating: Excellent

Cuisine: Classic Italian

Ambiance & Décor: Cozy Urban Bistro

Prices: $10 - $30

Website: Brick Osteria