Modern Mexican Cuisine That Embraces Tradition
Named after the national bird of Mexico, Caracara is a charming restaurant with traditional Mexican cuisine. With its Pueblo-inspired exterior and adobe and earth-toned interior, Caracara immediately sets a soothing, intimate mood. This ambiance is further accentuated by the delicate glow radiating from the numerous candles adorning the walls and tables. Traditional and modern Mexican music can be softly overheard. Without realizing, you have been sent down a path that promises to both impress and delight.
A contemporary and classy tequila lounge can also be found inside this exquisite restaurant. The selection of tequila can only be described as extensive, with offerings suitable to please the most discerning of palates. Even if you don't believe yourself to be a fan of tequila, you would be remiss to deny this menu the opportunity to change your mind.
This brings us to our first taste of Caracara, coming via a liberal selection of lovely libations. A quintet of margaritas was placed before us, accompanied by a lone martini. These artisan cocktails are painstakingly crafted one at a time with the utmost of care and attention to detail.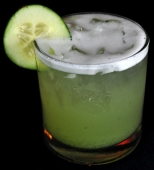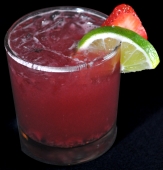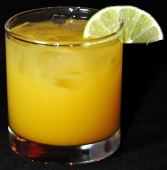 The Cucumber Jalapeno Margarita (above left) was a tad on the sweet side with a hint of jalapeno at the finish. Blackberries, blueberries, raspberries, and strawberries are freshly muddled to make the Berry Margarita (above center); a tasty mix whose little pulp adds a nice texture. The Passionate Margarita (above right) has subtle chili syrup that gives a spicy kick to this otherwise sweet concoction. Not as sweet as its name implies, the Mango Margarita (below left) had a vibrant taste to match its lively color.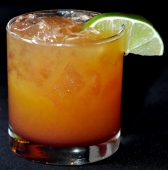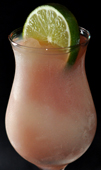 The Frozen Margarita (above center) was well blended, with ample tequila and a nice lime flavor. Impressively, it stayed at a perfectly frozen consistency for a much longer time than one would typically allot for this type of drink. The lonely but lavish Coconut Raspberry Martini (above right) was topped by a trio of raspberries accompanied by floating coconut. Frothy with strong flavors, the raspberries provided a nice bitter offset to the gentle sweetness of the coconut.
We were given a gratis basket of Tortilla Chips (below left) served with Tomato Jalapeno Salsa and Salsa Verdi. The chips were crisp and fresh, but the salsas were the real attractions. Particularly impressive was the tomato jalapeno salsa, which was flavorful with a biting heat. For those that prefer a tamer taste, the salsa Verdi offers a fantastic flavor without the fire.
For a fun feat to behold, be sure to order the Guacamole (above right). This appetizer is prepared tableside to your preference of mild, medium or hot. We opted for the medium and enjoyed watching it being made nearly as much tasting it! This delightful dish is whimsically presented in a swine-shaped volcano bowl. Served with warm, soft tortillas, the guacamole was rich, creamy and delicious, with ample avocado chunks abound! Don't regret missing out on this is an amazingly fresh appetizer.
Next was the Calamares Fritos (below left). An interesting take on fried calamari, this appetizer is blue corn crusted with chipotle and served with honey aioli and ranchero sauces. Instead of the traditional slice of lemon, the calamares fritos begs to be bathed in lime. The sweetness of the honey aioli sauce coupled well the bitter tang of the lime. This unique appetizer pleasantly surprised us with its amazing marriage of flavors. You wont be disappointed by this delicious detour from the usual fried calamari experience.
The Ceviche del Dia (above right) consists of a glass filled with a wonderful spectrum of vibrant colors encompassed by tortillas. We couldn't help but akin this sight to a lush oasis in the midst of a sandy desert. This appetizer is made fresh daily, and it certainly tastes true to that statement. The bay scallops were tender and succulent with abundant lime and peach undertones. The rainbow of bright colors was created through a blend of cucumbers, red onions, tomatoes, cilantro, pineapple and slices of avocado. It was a refreshing mix of subtle heat and slightly sweet flavors that will wake up your palate.
We opted for the Tamales Camerones (below left) next, which comes served with three jumbo shrimp. The colors of this appetizer were also quite vibrant, as was the taste. The corn was fresh and the chipotle aioli cream sauce provided a nice spice and a light, smokey taste. The main event of this dish was the grilled shrimp. They were perfectly cooked and the charred flavors were amazing. It is also worthwhile to mention that you can have the Tamales Pollo, which comes with chicken, though we did not try this variety.
We were given one of their more popular dishes to taste next, the Costillas A La Parrilla (above right). These short ribs are slow cooked in Dos Equis beer and served over boniato. Tortillas, three-chile salsa and Mexican rice with pumpkin seeds are served on the side of this bountiful entrée. The ribs were fork-tender and flavorful, with a nice heat. The boniato, which is mashed white sweet potatoes, was sweet, creamy and thick. Be sure to give it a try. Though they were fine independently, the sides should stay on the side as the main dish is amazing on its own.
The Camarones Tropical (below left) was our next Platos Fuertes, or "Strong Plate". Another colorful entrée, this dish of grilled shrimp is served over orange chipotle cream salsa, with roasted corn and sautéed spinach. Again, the grilled shrimp had a nice charred flavor and were tender as can be. The roasted corn was sweet and paired well with the orange flavor of the salsa. A strong garlic flavor was quite noticeable in the sautéed spinach, though it worked well.
The Pollo Relleno (above right) comes sliced in hearty sections, making it a great option for sharing. Lightly breaded chicken breast makes the outermost layer of this rolled entrée. The inside is stuffed with Chihuahua cheese, poblano peppers and mushrooms, and then it is all topped with a tequila cream sauce and a generous amount of mushrooms. We all enjoyed the medley of flavors, particularly the sharp taste of the Chihuahua cheese.
Our next dish was the Salmon Manchamanteles (below left). Our server informed us that this entrée's name translates to "tablecloth stainer" - a whimsical and accurate description due to the potential spillage of the rich red mole. A large piece of roasted salmon is served over sautéed spinach with mole manchamanteles and topped with Pineapple pico de gallo. The mole was a refreshing fruity sauce. The salmon was crispy on the outside yet had a moist, tender inside – a true sign of expert cooking.
For dessert, we tried three of Caracara's more popular offerings. Our first dessert was the Berry Tres Leches (above right), which offered only a scarce amount of strawberry and black berries, but one bite of the angel food cake quickly made us forget that the berries even existed. It was sweet, dense and of good consistency, even being soaked throughout.
The Caracara Churros (below left) were also good, especially coupled with the dipping sauces. The dark chocolate sauce was a little overpowering compared to the more subtle cajeta (caramel) sauce. Lastly, we tried the Coconut Orange Flan (below right). The toasted coconut that topped the flan provided a lovely contrast of texture. The orange flavor was robust and invigorating. Overall, each of these desserts were sweet successes and satisfies a multitude of taste preferences.
With our desserts devoured, it was time to bid farewell to this meridian of modern Mexican cuisine. Though they may be a relatively new addition to Main Street, Caracara will undoubtedly become a mainstay.