The Trifecta Of Ambiance, Service & Taste
Unless you already know what is there, 688 Fort Salonga Road in Northport is a somewhat enigmatic location. This modest-sized 2-story building has no large indicators as to what it is. The marquee is barren, save for the numbers "688". Next to the door is a small, easily missed plaque with "J. Michaels Tuscan Steakhouse" inscribed on it. This intentionally hushed façade lends to the mystery and allure that is J. Michaels Tuscan Steakhouse.
They thrive via word-of-mouth, and once you have had a taste of their culinary creations, you too will surely sing their praises to anyone willing to listen. Additionally, their ambiance also makes for a remarkable dining experience. Candles cast an intimate glow from their wall-mounted perches. Single smaller candles accompany a lone fresh flower at each of the 17 tables. Only seating 54 diners at any given time, it doesn't get much more intimate than this.
But it is not just the food and intimacy that makes this classy establishment successful; their adamant attention to detail is second to none. Three waiters tend to each table, ready to deliver menu and pairing advice, friendly banter, a hot towel between dishes, or simply to freshen up your drink. Our main server, Tony, has over 26 years of experience and has garnered a wealth of knowledge to join his friendly, helpful demeanor.
What better way to begin an evening in such an intimate establishment than with a few lovely libations? We started with the Creamy Coconut Martini (below left), made with Malibu coconut rum, splashes of pineapple juice and cream, with a rim of toasted coconut. This was a sweet and tasty concoction with a frothiness that made it light and airy.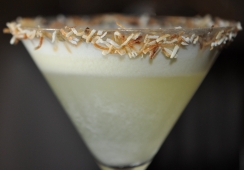 The Espresso Martini (above right) is a swarthy drink, created by mixing Van Gogh Espresso Vodka, Absolut Vanilla Vodka and fresh brewed espresso. A lemon twist elegantly garnishes the side of the glass. High espresso notes were followed by just a hint of lemon and vanilla.
The Perfect Margarita (below left) was our next offering, and it certainly lived up its name. Consisting of Patron Reposado Tequila, Grand Marnier, sour mix, orange juice and fresh limejuice, margarita lovers will instantly fall in love all over again when they taste this sublime aperitif. Any wine connoisseur will be impressed by the selection offered on their "Tuscan Dream" wine list. Populated by only the best exotic wine options, this list had a strong Italian influence befitting its title.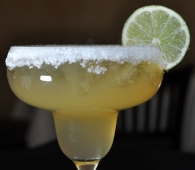 We were given some Tuscan Style Bread (above right) to share. Hardy pieces of bread are brushed with extra virgin olive oil and a light coat of butter, then topped with a sweet Gorgonzola cream sauce and sliced fresh scallions. The perfect combination of oil and butter allowed for just the right amount of crunch. It was surprisingly filling, with enticing Gorgonzola flavor and a sweet tinge.
Next was the New World Salmon Roll (below left). These special morsels of maritime love are crafted with care. Succulent smoked salmon is herb cured and filled with colossal lump crabmeat, then served with shaved poached asparagus tips, caramelized fennel and champagne mustard. The smoked salmon was robust, though a little on the salty side. The champagne mustard provided a unique flavor addition. The delicate taste of the crabmeat worked well with the smokey flavor of the salmon.
The Mozzarella Burrata Nikki Rose (above right) sure is a mouthful, both in name and in size! This is a great shareable appetizer, especially for those who love mozzarella but may not have been introduced to the wonder that is Burrata! This homemade cheese is served with sliced heirloom beefsteak tomatoes, marinated and grilled artichoke hearts and roasted red peppers laced with a balsamic glaze and basil infused olive oil. It is an astonishingly rich cheese with a smooth, creamy texture, accentuated nicely by the fresh, ripe tomatoes.
The Chefs New World Lobster Meatballs (below left) are slowly simmered in a San Marzano cherry tomato marinara sauce with crumbs mixed in from the Tuscan Bread that we delighted in earlier. This is heaven on a plate! Everything worked well, from the savory sauce to the succulent chunks of lobster. This appetizer is a truly unique delicacy that you simply won't find elsewhere.
The Braised Short Rib Barolo (above right) emerged from their 5-hour bath wonderfully tender and superbly aromatic. This fall-apart tender beef is served in a red wine demi-glaze over steakhouse mashed potatoes. The sauce from the short ribs were a wonderful complement to the delicious mashed potatoes. The delicate glaze did not overshadow the natural flavors of the short rib.
The Seared Sea Scallops (below left) was our next delicious seafood-inspired dish. They come served over sautéed spinach and topped with a cognac cream sauce with chopped lobster. We were quickly fixated on the powerful aroma. All items in this ensemble were cooked to perfection. The seared in flavor of the tender scallops was absolutely delectable. This dish is perfect for sharing, but you may not want to!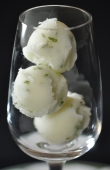 Next was the Intermezzo (above right), or "Intermission". This lemon mint sorbet had strong lemon flavor with mint undertones that started subtly but became more prominent with each spoonful. With our palates cleansed by refreshing lemon and polished with a mint finish, we eagerly awaited our next dish.
Our wait came to an end with the Chilean Sea Bass Luciano (below left). A center-cut sea bass filet is pan roasted and sautéed in a lemon, garlic, white wine and plum tomato sauce and served over sautéed spinach. Again, this was an amazing, fork-tender dish. The sea bass was moist and tasty with light lemon and garlic flavors, punctuated by the plum tomato sauce.
We then tried the Potato Skins (above right). Far from your basic potato skins, the eclectic assortment of ingredients that comprise this dish consists of lobster, white cheddar and red tobiko caviar. This turned out to be a stunningly great combination. Everything marries nicely in this unique, decadent side dish.
We could not visit a steakhouse without trying a steak, so Tony recommended that we try the Kansas City Bone-In Sirloin (above and below left). Tony promised us more flavor than a regular sirloin, and it did not disappoint. They let the meat speak for itself here, without any marinade and only a little salt and butter towards the finish. There was no need to mask the flavor of this incredible cut of meat, which was seared and cooked with an obvious talent. The homemade steak sauce was a great addition, though trying the steak alone is a worthwhile endeavor. The mashed potatoes (below right) that sided this entrée were excellent.
Alas, it was time for our final course. We were given two delicious desserts to delight in: the New York Cheesecake and a Chocolate Mousse Pie. The cheesecake had an amaretto cookie crust and raspberry coolie, with fresh whipped cream. The raspberry coolie was an excellent accoutrement to the creamy richness of the cheesecake. Chef Vincent Michael's famous award winning chocolate mousse pie is made with an Oreo crust and served with a homemade chocolate truffle. Truly a chocolate lover's dream come true, the truffle was a decadent addition to this rich, hardy slice of pie, with its marvelous mousse filling and amazing crust. It is easy to see why this popular dessert wins awards and the hearts of those who try it.
While they sway to the more costly side, you do get what you pay for via unparalleled service, extraordinarily fresh and expertly prepared dishes and an ambiance that will leave you yearning for more. This quaint steakhouse may be easily missed, but it is certainly hard to forget!