Matsuya
6 Great Neck Road
Great Neck, NY 11021
516.773.4411

Fine Japanese Cuisine & Exotic Sushi

Upon entering Matsuya, you will get a tropically inspired welcome into what is a remarkable Japanese restaurant in the town of Great Neck. Sounds of nature beckon you in and a trickling feng shui water fountain immediately greets you. The dining room is divided by a long, illuminated tank filled with tropical fish and colorful coral of all shapes and colors.
Before you even taste the food you will fall in love with their attentive and polite staff. This restaurant is undeniably one that is culturally inspired both in cuisine and décor. On our table, quaint spouted pottery contained both low sodium and regular styles of soy sauce, but there was no need to use them tonight. Chopsticks were tucked neatly into a folded fabric napkin along side decorative teal glazed ceramic plates.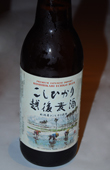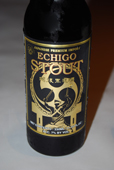 We immediately started our meal with three Japanese beers, two types of sake and a plethora of splendid appetizers. Premium Yibusu, brewed by Sapporo, was a rich and mellow all malt beer (above left). Although blatantly malty, it was also crisp, almost verging on an ale or IPA. The Koshihukari Echigo was very light and refreshing in a pleasantly sized 17oz bottle (above center). The third beer, Echigo Stout, was dark and rich, not too thick and very smooth (above right).
The first sake, Kurusawa, was the slightly sweeter of the two (below left). This will cleanse your palate after every course with a smooth, sophisticated and feminine distinctiveness. The second brand was Junmai Genshu Hyorei, which was a bit stronger but still went down all too easily (below center).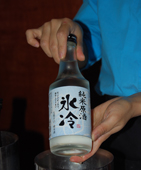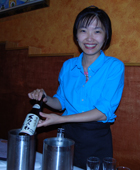 We all made a toast towards these chilled Japanese spirits and continued with our first course, the Asian Guacamole with Shrimp (above right). These could easily be the cheese and crackers of the rich and famous. A thick, spicy layer of creamy guacamole made from fresh avocados was spread over a large square of crispy noodle. The skillfully grilled shrimp had a fantastic char and were cooked perfectly. The smoky shrimp in combination with the luscious avocado and crispy fried foundation were a match made in heaven.
Before we knew it we were greeted by the second appetizer, Kumamoto Oysters and Clams served with Ponzu Mignonette (below left). This was a more dramatic version of a traditional American summertime classic - raw oysters and clams on the half shell with a kick. These oysters met the pre-requisite for freshness in raw seafood by their resemblance to a poached egg. They were plump, sweet and great to suck right out of the shell with a dollop of the spicy, Asian twist cocktail sauce.
The Baked XO Clams appetizer features hearty, fresh little neck clams with shrimp, onions, herbs and dried scallops (above right). This exotic starter offers an ideal combination of flavors that are bound to trigger your appetite for what's ahead.
Another excellent starter we can confidently recommend is the BBQ Calamari (below left). The sliced rings of squid wok are seared and lacquered in a sweet, soy reduction. It is quite apparent the talented kitchen staff pays much attention to detail, as the presentation was just beautiful. The tender and delicate calamari paired with the subtle flavor from the BBQ sauce was just an ideal marriage of savor. The enhancing addition of onion to the dish also provided our taste buds with a hint of sweetness along with some crunchy texture.
Next came a beautifully plated Salmon and Eel Skin Salad (above right). This creation was a gratifying fusion of textures. The salmon skin was ever so crispy and the smoky flavored eel was lightly salted. The ingredients are tossed in buttery avocado and a moderate dressing of sweet chili sauce and matchbook cucumbers. Whether you decide to add a squeeze of the fresh lemon or not, you will without a doubt love this dish.
The Leafy Sushi Tacos are Boston lettuce cups filled with a medley of spicy salmon, spicy kani salad, spicy yellowtail and spicy tuna (below left). Presented on a rustic, semi glazed, artful serving platter, this was another creatively presented dish and offered a collage of different flavors. The salmon was incredibly fresh and offered a minute spice to our taste buds. The kani salad presented a nice texture and although described as spicy, tended to cool down our palates. The yellowtail was very spicy, yet delicate and delicious and lastly the tuna was very fresh, tender and spicy. This appetizer offers a different flavor for everyone to enjoy.
We rounded out our appetizers with the Maitake in Cognac Sauce which features exotic, imported mushrooms sautéed with ginger and garlic in a deep cognac demi (above right). We also tasted a touch a cream flavor which was a delicate, delightful addition. These Japanese imported mushrooms were soft, simple and just delicious. Maitakes are very intense mushrooms, are strong flavored and tough to eat without the addition of a sauce. The cognac was the perfect additive and this stand out appetizer is a must have that everyone at the table confidently praised.
One of our favorite dishes from Matsuya is the Summer Shrimp Rolls (below left). The delicate rice paper wrapped around shrimp, alive with cilantro and other spices, proved to be perfect for the season for which it's named. The peanut inspired hoison sauce is there to balance your taste buds and should be followed by a sip of that cool, smooth sake to wash it down.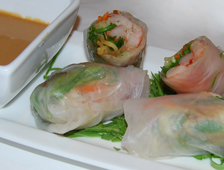 The Foie Gras And Eel, available by the piece or as an appetizer, is composed of Nigiri Zushi rolls of crispy, broiled eel and torch seared goose liver with black cherries (above right). This was a very smooth, delectable dish that we all thoroughly enjoyed.
Their traditional Omakase was an impressive array of sushi creations presented on what resembled a cross section of tree trunk (below left). This was a veritable sea of the finest handmade sushi available in a platter of perfection. Exotic preparations of delectable sea creatures such as "live shrimp", horse mackerel and raw scallops were quite impressive. Once again, it is insisted that no soy sauce should touch any pieces of this serious sushi.
Matsuya's original creation, Off The Hook Sushi Rolls, were another hit (above right). These eel and avocado tempura rolls are topped with spicy tuna tartare, scallions and jalapeno. The rolls deliver an abundance of heat and are perfect for someone who loves spicy foods. From the refined, crunchy tempura to the crispy, flavorful eel, these rolls presented a nice balance of flavors and were off the hook spicy!
The Roasted Nasu was a delicious Japanese eggplant and garlic compilation (below left). A velvety eggplant mixture lay in a bed of the naturally snappy skin of the vegetable. An accent of soy and garlic added a savory notion to the overall flavor and was definitely a unique creation.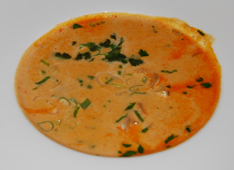 Next we were served a wonderful bowl of sweet and spicy Seafood Bisque with a cilantro overtone (above right). Succulent clams peaked out from under this creamy coconut accented broth. We were pleased to find it not to be too heavy with cream and distributed just the right amount of broth to envelop a plump morsel in each spoonful.
The Balinese Sate Skewers were a nice choice to round off our liquid based predecessor (below left). Thoroughly seasoned in a tasty East Asian spice rub, pieces of lamb and chicken were descriptively "melt in your mouth" tender. This dish was a highly flavorful pairing of meat skewered alongside a heap of sautéed red onion and garlic.
We were next presented with the Wagyu Steak Frites which features cast iron, seared, super prime Japanese beef served with golden, thick cut fries topped with sea salt (above right). The beef was unbelievably tender and overflowing with an abundance of flavor. The crunchy and fittingly salted fries, which were cleverly presented in a tower formation, were an ideal accompaniment to the beef.
Everyone loves a good dumpling and the Shangai Dumplings with beef, garlic and chives were exceptional (below left). There is a warning issued about the hot steamy broth that will be released upon puncturing each doughy pouch filled with savory ingredients. You can pop one into your mouth in its entirety or cut it open on your plate and let the juices run free. Either way you choose, we strongly recommend these pleasantly plump dumplings.
Steak Sambal, a beautifully sliced arrangement of beef skirt steak grilled with garlic and herb chimichurri sauce, was a blissful endeavor (above right). The meat was cooked to a perfect medium rare temperature allowing it to continuously marinate in its own juices. Use the side of sauce sparingly; it packs a lot of fiery heat! Once again, cilantro made an appearance adding a fresh, herby essence to the tender, buttery tenderloin.
The Baby Rack Of Lamb presents lamb with an Asian flare offering our palates both a sweet and sour tang (below left). This hoison rubbed, New Zealand lamb was drenched and lacquered with a mouth-watering soy, sour cherry reduction. It was extremely tender and elegantly presented and bathed in the rich, sweet and delicious sauce.
The last entrée makes you think, why go strictly to a steakhouse for steak when you can feast upon this Maple Smoked Tenderloin on a bed of fire roasted summer corn (above right). You can surely taste and smell the sweet maple overtones infused into this cut of delectable meat. Once again, we were delighted at the perfect medium rare temperature that had been achieved by the chef. The corn never made it anywhere near a tin can and it was freshly shucked and full of roasted flavor. This was agreeably one of our favorite dishes of the evening. The hint of sweet maple infused into this supple, juicy cut of meat was a phenomenal collaboration and pure ecstasy for the taste buds.
For dessert we were presented a decorative looking Raspberry Mound with chocolate mousse (below left). This was a delightful creamy cylinder adorned with a wall of an almost argyle, diamond pattern. Each mouthful was accentuated with the tangy bite raspberry layered with silky mousse and a light crust.
We then had a special dessert of Warm Ginger Apple Cobbler (above right). This was a warm, comforting, tart apple filling with an incredibly crisp, thick crumb topping. It was topped with cooling vanilla ice cream and made for a wonderful conclusion to our meal that was not syrupy sweet, but instead light and inviting.
Matsuya takes the act of going out for sushi to a whole new level. You don't have to be a professional foodie to appreciate the fine quality and intensive care that goes into every dish. However, if you are a connoisseur of cuisine and seeking a relaxing, tranquil environment to dine in, then you will surely be impressed with Matsuya. If you come in unsure of what you might be in the mood for, the staff will gladly guide you with your decision. Everything is well thought out, the servers are knowledgeable and the wasabi is derived only from fresh wasabi root. These are the kind of details that make a restaurant stand out over the rest. You can get Japanese food all over this island, but when you dine at Matsuya, you will notice the difference between what is just average and what is extraordinary.
Overall Rating: Fantastic

Cuisine: Exotic Japanese Cuisine

Ambiance & Décor: Tropical & Inviting

Prices: Lunch $8-$20, Dinner $20-$35

Website: Matsuya