An Exquisite Italian Eatery With Heart
San Marco, one of the most authentic Italian restaurants on Long Island, is co-owned by Orlando Andreani, a man charming beyond words – the quintessential host. His entrance into the restaurant industry began in 1960 as a bus boy in Italy. He eventually attended culinary school, and has worked throughout Europe including England, France and Switzerland. He got his first taste of America in 1969 when he began working for the cruise ship company Home Lines on the "Oceanic." He joined forces with Jose Rodrigues and opened San Marco Ristorante in March of 1987. Jose is currently the co-owner and executive chef with over thirty-five years of experience. Previous to San Marco, Jose trained extensively in Europe. He worked at Le Adroite, and then at Il Villaggio, which is where they met.
Patrons are warmly welcomed through an entrance that directs them into the hostess and coat check area. Immediately to your right you will find a brick archway that leads to the front dining area, ideally used for private parties. The main dining room is located towards the back of the restaurant. The intimate bar area is located in between both the dining rooms. The bar is separated from the main dining room by a wall that has three charming stained glass windows. The dining room has about twenty tables accented with pink orchids in vases throughout. Paintings of Venice, Italy are hung on each wall to remind diners of the origin of this delicious fare.
The adept wait staff is quick to help make a dining suggestion with the assistance of a display cart containing the evening's specials and most popular menu items. The staff was great at maintaining their formal demeanor, while still having fun and providing a relaxed atmosphere.
The extensive wine list contains approximately 350 bottles originating from local Long Island vineyards all the way to Africa, Europe and New Zealand. Orlando also has a private collection consisting of approximately 60 varietals that are sometimes offered as specials. In 1991, Orlando came across a fine selection of wines that are considered highly regarded French Wines. Seventy percent of the purchased wine can be found on the current wine list. Our table enjoyed a bottle of Germany's Polka Dot Riesling; a semi-dry option with a modestly sweet taste. It was thoroughly enjoyed by all at the table. For those that prefer a water option, San Pellegrino is offered as their sparkling choice or Panna for non-sparkling.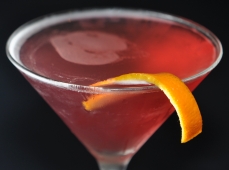 We partook in a light pink hued libation, called a Pink Tuscan Lemonade (above left). Made with cranberry juice, vodka, limoncello and a splash of club soda, this sweet drink had a slight bitter finish. We also tried the Rum Aurora Martini (above right). This marvelous martini is crafted with Chambord, sour mix, cranberry juice and Bacardi rum. The cranberry juice offset the strong lemon undertones nicely. This delicious concoction finished with a slight raspberry taste.
We started with the Avocado Mimosa (above), which is an avocado stuffed with crabmeat mixed with mushrooms, onions, garlic, ketchup and a little salt and pepper. After being placed in the avocado, special vinaigrette is then added and the creation is topped with chopped vegetables. Other colorful vegetables garnish this unique appetizer. The avocado was fresh and creamy, but the delicious contents are what truly made this dish extraordinary. Everything marries well, with the crabmeat being absolutely stunning.
We were told that the Muscoli Nonna Vera (above left), with its decorative lemon centerpiece, is one of the most popular appetizers at San Marco. They make hundreds of orders for takeout around the holidays, and it is quite apparent why – they taste amazing! Orlando enlightened us that his grandmother created this recipe, which is now named after her. Looking to add flavor to an inexpensive cut of meat, she designed a sauce from crust-less white bread, fresh garlic, parsley, red wine vinegar, olive oil, salt and pepper. What might sound like a simple creation turned out to be simply incredible. When added to the perfectly poached mussels, the resulting appetizer is a delicious, one-of-a-kind treat!
The next appetizer sampled at the table was the Torta San Marco (above), an antipasto layered cake. Using ten inch crepes, basil, fresh mozzarella, roasted red peppers, salami, mortadella and sun-dried tomatoes, a "layered cake" is created and coated with chaudfroide, a white gelatin glaze. Orlando described the ingredients as "the foods of the Gods." An entire cake can be purchased for holiday parties or dinner events. This appetizer not only looked amazing, but also was out of this world to eat. You could easily taste the wonderful layers of flavor. We were also served a side of Asparagus (below left). These tender stalks were fresh and tasty – a perfect side for those with an asparagus affection!
Another popular dish at San Marco, the Linguini Maddelena (above right) consists of linguini with garlic and oil, mixed with snow peas, sundried tomatoes and baby shrimp. The pasta was insane and a sign that they definitely know what they are doing. The blend of ingredients is in perfect harmony; from the delicate shrimp that graciously welcomed the garlic and oil, to the sundried tomatoes generously lending their unique essence. This was an abundantly flavored dish that is sure to please.
Our next entrée has been featured on Fox Five News with Rosanna Scotto and Greg Kelly. Coated with Parmigiano cheese, the Veal Pisana (below left) is then covered in a white wine and butter sauce with peas and artichokes. Carrot medallions held snow peas in place, making for a lovely presentation. This stunningly great entrée seems to owe its awe-inducing flavor to the Parmigiano cheese coating, which complemented the beyond-tender veal very well. The vegetables are easily ignored in this superb dish, but they were also fresh and perfectly prepared.
The Petto Di Pollo Ai Lamponi (above right) is yet another gorgeously plated presentation. Chicken breast is lightly battered and served in a raspberry marmalade. The chicken seemed almost candied, with a rich color and taste. It was tender as can be and the raspberry flavor was brilliant. Though the kiwis and strawberries may appear as "just garnishes", these fruits proved to be a refreshing way to wake the palate.
For dessert, we first tried the Crème Brule (above left). The top of this dessert staple was perfectly caramelized into a wafer thin shell. Not too sweet, it was a well-balanced option to bring the night to a close. The tartness of the lone strawberry provided a nice counter to the delicately sweet pudding. Following this was the New York Cheesecake (above right). This devilishly decadent but light dessert is fresh and fluffy, without any preservatives. Strawberries sat atop this creamy cheesecake, with delicious raspberry and chocolate sauces below. What a delicate and sweet way to end an astonishing night that proved to be anything but ordinary.
If you are unable to travel to Northern Italy for an authentic Italian dinner, do yourself a favor and choose the next best option without having to stray far from the Long Island Expressway. We assure you that San Marco Ristorante is well worth the trip and will satisfy any Italian culinary craving you may have. It's definitely a place any true Italian food lover will greatly enjoy!

Below are noteworthy dishes we sampled during our previous review.
We tasted San Marco's Mesclun Salad with strawberries and walnuts (below left). The presentation of the dish was great as seen in the photograph. It was served with a light raspberry vinaigrette making this salad a semi-sweet classic creation.
Our first appetizer of the evening was the Mozzarella Combination (above right). A classic dish of fresh mozzarella, soprasata, roasted red peppers, tomato and calamata olives drizzled with a balsamic vinaigrette. We must say the house-made mozzarella was incredibly fresh. The second appetizer was another combination of Italian flavors. This Melon and Prosciutto dish (below left) was served neatly on a plate with more of that delicious fresh Mozzarella. The juicy melon was accentuated nicely by the thinly sliced prosciutto. The sweet and not too salty flavors counter balanced one another very well. The next dish was the Vegetali Grigliati Derby (below right). This dish is made fresh daily and consisted of grilled carrots, eggplant, green and red peppers and zucchini covered in crumbled gorgonzola cheese and a balsamic drizzle. The vegetables were grilled and sliced to perfection; crisp, thin and flavorful. The gorgonzola provided a pleasant accent to the ensemble.
We were instructed that all of the sampled dishes which followed could be ordered as either an intermediate or main course. The Pompodoro Pappardelle (below left) listed on the menu is served in a tomato sauce. We were given the opportunity to try the brown mushroom sauce version that is a frequent special. The wide flat noodles are homemade and absolutely exceptional. The brown sauce is made from dry sherry wine, shallots and shitake mushrooms. The noodles were house-made and tasted very fresh and the sauce was marvelous. Our next dish was Cavatelli (below right), another house made special that consisted of ricotta, semolina flour, spinach, meat sauce, and sausage Bishop. The pasta was freshly prepared and looked similar to green beans. The meat sauce was a perfect compliment to the sliced sausage Bishop. It was an incredible course that was at just the right intensity level.
We then moved on to the Farfalle Portofino (below left). The dish consisted of bowties (the only dried pasta we tried), sundried tomatoes, sliced black olives, broccoli spears and garlic sautéed in oil. The dish was light, traditional with a perfect hint of garlic. The Vitello Cantiniera (below right) consisted of veal with mozzarella & prosciutto in a light brown sauce garnished with endive and parsley. A truly delicious aroma came from this dish. We thought the veal was perfectly prepared & the prosciutto added a subtle salty overture to the plate.
Our suggested entrée would be the Trio San Marco (below left). This choice included chicken, shrimp and veal dipped in an egg wash, which consisted of butter, lemon juice, and white wine. The veal was delicate, and practically disintegrated in our mouths. The shrimp was cooked to absolute perfection. The chicken was quite tasty and moist. An excellent sample of meat, poultry, & seafood prepared in a wonderful sauce. The final main course sampled was the Petto Di Pollo Lariana (below right), a modified version of Orlando's grandmother's recipe. A chicken breast stuffed with minced baby shrimp, Portobello mushrooms, bread crumbs and shallots. The stuffing of mushrooms and shrimp really complimented, while not overpowering, the moist and splendid taste of the chicken.
The dessert selection seemed endless – an assorted array of gelatos and sorbets, Cannolis, Mousse Al Cioccolato (chocolate mousse), Crema Caramella (Spanish flan), New York Style Cheesecake, Poached Pear in Port Wine (below left), Apple Strudel, Tiramisu and more. All desserts are prepared from scratch on site by the pastry chef. After enjoying such a large dinner, we only had room for four of the desserts.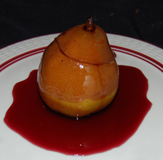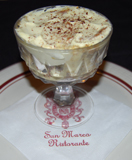 The tiramisu (above middle) was served in a glass dessert dish and was splendidly sweet and creamy with ample expresso flavor throughout. Our next indulgence was Crema Caramella better known as flan (above right). It had a sweeter flavor than the average flan. The New York Style Cheesecake was drizzled with chocolate sauce (below left). The texture was creamy and the flavor was predictable. Our last dessert of the evening was the Chocolate Raspberry filled Mousse Cake (below right) that proved to be an excellent choice. The mousse was whipped to an airy decadence that provided a wonderful final note to an exquisite dining experience.