Long Island's Little Sicily
One might find a little slice of Sicily right here in Commack at Taormina Restaurant and Pizzeria—namesake of Italy's picturesque eastern coastal city. Whether you are in the mood for pizza, a hearty pasta dish or one of Chef Giuseppe's specialties, the choice is sure to be an outstanding experience. Once we canvassed the menu, we knew right away there was something here for everyone with an all-embracing collection of popular favorites along with a few healthy offerings for those who seek a calorie conscious meal.
While the front of the restaurant is a traditional pizzeria, the back leads to a dining room that demonstrates sophistication with a mix of ethnic furnishings that create a European backdrop. It is no doubt that owner Peter Maccarone took pride in his recent renovation. From the 3-tier glass bottle chandeliers to the old-world style tiles and framed mirrored wall decor, the space was beguiling to say the least. And, the casual weekday atmosphere transpires into weekend elegance with the tables swathed in fine cloth napery.
Once seated in the elegant dining area, one of the friendly wait staff members promptly served us a hearty, peasant loaf of bread (below left). With a soft, fluffy center and crusty exterior, the gratis bread is a nice offering to nosh on while deciding where to begin your Taormina adventure. With the menu selections made, it was on to our first tasting.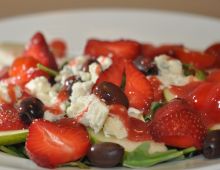 The Pear and Gorgonzola salad (above right) was a perfect way to start off. It was a generous portion of sweet and savory garden delights including pears, strawberries, cherry tomatoes and Kalamata olives all nestled atop crisp arugula. We loved the subtle tartness of the raspberry and apple vinaigrette as it contrasted the sweetness of the fruits and tangy taste of the gorgonzola. This offering is certainly not your ordinary salad.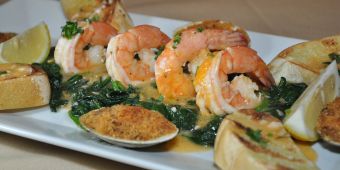 Continuing with the theme of perfection was the Shrimp and Clam Crostini (above). Tenderly cooked shrimp were accompanied by delicately breaded fresh clams, all over a bed of spinach with toasted Italian bread tips.
Next on deck was the Crispy Cherry Pepper Calamari (below left). Tender pieces of calamari are lightly battered with flour and tossed with sliced jalapenos and chopped tomatoes. It was coated with a moderately spicy sauce that had just the right amount of zest in each and every bite. What a pleasant surprise it was to find a heaping mound of ricotta cheese underneath—a unique and clever approach to cool the palette.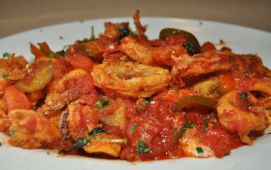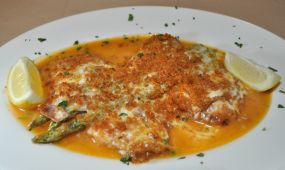 We were underway with the Chicken Veneziana (above right) for our main course. It was an entrée that was full of flavor. Dipped and sautéed in egg batter, the thinly sliced cutlets were layered with asparagus spears, prosciutto, mozzarella and topped with seasoned breadcrumbs, all baked together perfectly. We were highly impressed with it's tenderness as we could simply cut it with a fork! The chicken's lemon butter sauce was nothing less than scrumptious, yet quite reminiscent of Francese sauce.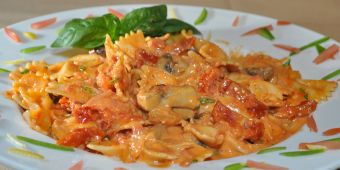 What trip to a ristorante would be complete without some type of pasta offering? Again, Taormina did not disappoint. The Farfale Bosciaola (above) is served in a creamy pink sauce with onions, roasted tomatoes, prosciutto, mushrooms and love. This fine assortment of quality ingredients featured a variety of flavors that married well to create a memorable dish that will quickly rank among your top pasta picks.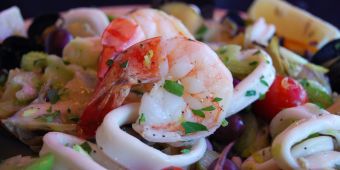 Last, but certainly not least, was the Taormina Special (above). Given that this dish bears the name of the restaurant, it certainly comes with high expectations - all of which are satisfied, and then some! A generous medley of seafood is served over a bed of linguine. This expertly prepared entree includes muscles, shrimp and clams, all in a marinara sauce.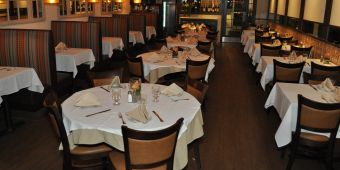 The restaurant's friendly staff, warm atmosphere, reasonable prices and delectable dishes make it a highly recommended place for a relaxing and enjoyable dining experience. It is noteworthy to mention the restaurant offers specialty nights as well as a lunch and catering menu. Taormina's should definitely find a spot on everyone's bucket list.
Overall Rating: Excellent

Cuisine: Regional Italian

Ambiance & Décor: Warm & Contemporary

Prices: Lunch $8 - $20, Dinner $7 - $25

Website: Taormina