Calogero's - A Taste Of Elegance
Calogero's Italian Restaurant, is comfortably situated on Franklin Avenue in the heart of Garden City. This newly renovated establishment has re-imagined itself into a fashionably modern restaurant with an upscale vibe & urban ambience. Some of the elegant new touches include an eclectic collection of mirrors, a beautiful new ultra-plush bar and a cozy patio to dine al fresco replete with trendy sun sails that create a canopy effect. Calogero's wonderfully appointed interior and haute cuisine create a Manhattan dining sensation without the commute.
The front of the house at Calogero's is under the watchful eye of veteran restaurateur Ronald DiGangi while the very talented Executive Chef Saul Monge brings the kitchen to life. Collectively these two proprietors have a wealth of experience in the restaurant business. Calogero's, which was named after Ron's late Italian grandfather, opened its doors in 2002. His grandfather believed delicious food should be available at delicious prices; an idea that this place easily lives up to.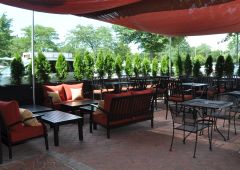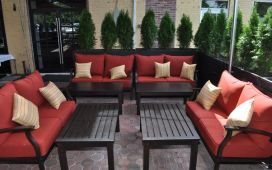 After taking in the visual splendor of this establishment, our culinary journey soon began. They set the bar high with a fabulous menu of creative dishes at reasonable prices with a comprehensive wine list any restaurant would be proud of. Naturally, we were first served some fresh Italian bread accompanied by their popular garlic basil infused oil.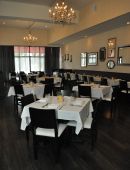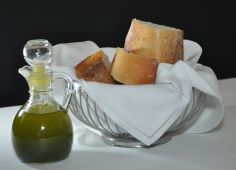 The first antipasti to titillate our senses was the Calamari Fritti (below left) with red pepper aioli and a classic tomato pomodoro sauce. This generously hand-battered fried calamari was very tender on the inside and flawlessly crispy on the outside, creating a slight crunch while at the same time falling apart in your mouth. The pomodoro sauce was a spot on classic while the red pepper aioli was seasoned expertly with a touch of heat.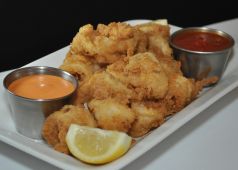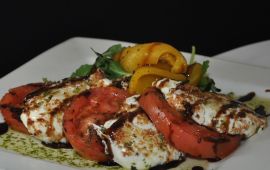 The delectable Pan Roasted Fresh Mozzarella (above right) with arugula salad, roasted peppers, grilled tomatoes, and balsamic reduction was the second antipasti to be presented. It was a feast for the eyes as well as the mouth, with fresh and vibrant reds, yellows, and whites drizzled with a house made balsamic reduction. The inventive pan-roasting of the freshly pulled mozzarella created a unique flavor with an unexpected smoky sensation. Say hello to Pan Roasted Fresh Mozzarella and goodbye to ordinary Caprese salad!
We moved on to try the Roasted Figs (bottom left) with baby spinach, freshly sliced beets, and cranberry goat cheese with raspberry vinaigrette. It was obvious to see why this is Calogero's most prized salad as the tasty roasted figs and sweet cranberry goat cheese made a charming partnership. It is definitely a must try for anyone looking for a light and refreshing appetizer to begin their meal.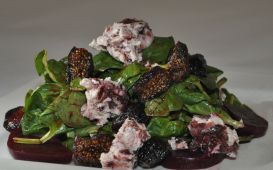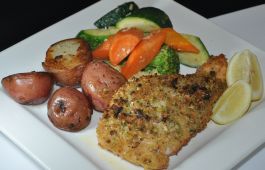 We continued our savory expedition with the Pistachio Crusted Salmon (above right) with sage butter sauce, roasted potatoes, and sautéed vegetables. The true flavor of the Salmon was not overpowered by the delicate butter sauce. The fresh herbs and pistachio crust created a delightful crunch to the salmon which was accompanied by classically simple sautéed vegetables and crisp roasted potatoes.
With great anticipation, we awaited our next entree the Linguine Vongole (bottom left). This dish, which of course is Italian for linguine with clams, was superbly seasoned with fresh Italian parsley and extra virgin olive oil creating a medley of perfectly combined ingredients. The Linguine was nicely al dente, the clams were perfectly tender, and the seasoning expertly executed.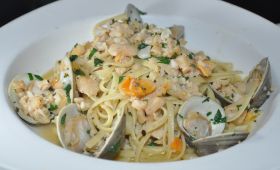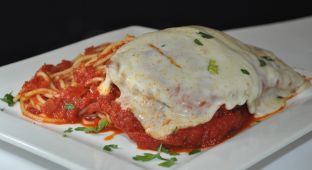 Our journey continued with the ever popular Chicken Parmigiano (above right), a mainstay classic Italian-American dish, in this case, served with two layers of tender chicken and melted mozzarella served with al dente pasta. This dish, which surely would have made Calogero proud, was executed with such love and tradition that we highly recommend ordering it for the famiglia as the portion borders on family-style.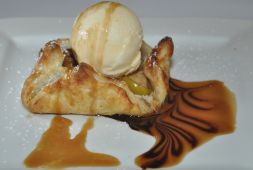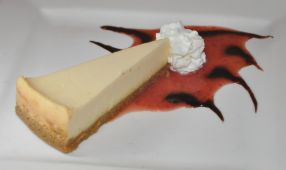 The night drew to a sweet conclusion with three luscious desserts beginning with the Apple Crostada (above left), a rustic assembly of semi sweet apples in a flaky homemade puff-pastry crust with vanilla ice cream and a nice drizzle of caramel sauce. Then a fine New York Cheesecake (above right) with raspberry sauce arrived to compete with the rest of the sweet offerings. However, the star of this dessert trilogy was the Nutella Mini Cannoli (below left), a must-have for chocolate and cannoli lovers alike. This rich, fulfilling dessert is the decadent hybrid offspring of nutella and cannoli cream.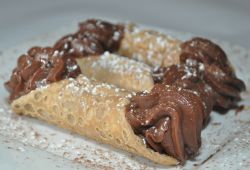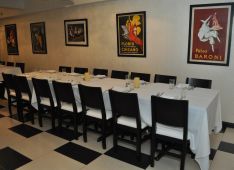 Suffice it to say, Calogero's is a restaurant for all seasons and all tastes. What with the artisan cocktails at the bar, casual al fresco dining under the stars and a private dining room (above right) - there is truly something for everyone . This wonderful establishment is what you get when you combine fabulous award winning food, world class decor and genuine Italian hospitality.
Overall Rating: Excellent

Cuisine: Italian

Ambiance & Décor: Trendy & Elegant

Prices: Lunch $9-$18, Dinner $14-$24

Website: Calogero's