A Gourmand's Dream Come True
History is revealed here at La Marmite with a lifetime of old world charm and fine dining. After 40 years of being regarded as one of Williston Park's most quintessential landmarks, the refined style and familiar northern Italian-French cuisine has led the Kearns family—long-time customers—to recently purchase the restaurant themselves. Greg Kearns—who is now executive chef—has taken the recognizable menu to new heights with dynamic selections that are distinct and refreshing. With weekly specials and seasonal modifications, the offerings are always exciting at La Marmite. And, for an even more enchanted dining experience, the restaurant is serenaded with live jazz music each weekend.
This 100 year old Victorian mansion is a chamber of sophistication that's beaming with élan. From the baby grand piano to the flattering wall décor to the decadent drapery, every inch of the space shouts elegance.
It was a warm greeting from our maitre d' Peter whom escorted us to one of the many dining rooms that was located just beyond the lounge. Delivered to our table was a basket of bread that included hearty cuts of toasted peasant loaf along with cranberry raisin walnut rolls.
As a prelude to the main entrée, we were presented with the Tuna Tatar, a fascinating ensemble of tuna, avocado, crispy shallots and soy-ginger dressing that was delicately drizzled on the plate. Molded into a tower for a stylish presentation, this selection was properly balanced with its subtle flavors. The dressing was minimally applied to let the natural essence of the tuna take precedence. Just a little texture and color go along way with the crispness of the shallots and the vibrancy of the mache greens.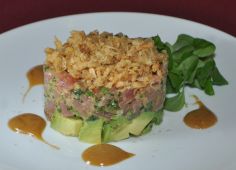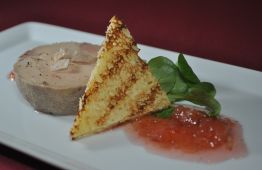 We were elated when the Foie Gras Torchon arrived. A potpourri of flavor treated our palettes as the rhubarb jam, smoked sea salt and mache greens gave way to a pleasant experience. It is a world-class delicacy that's delightfully smooth and creamy as it melts on the tongue in the most sublime way. Taste is perfectly balanced with a note of sweetness from the rhubarb jam that is a nice counterbalance to the savory flavors. It is served with toast wedges on the side. The Foie Gras Torchon exhibits the true epitome of fine French cuisine.
Spring has sprung with the Sweet Pea Ravioli that's refreshing as can be. It's an intriguing combination of crispy pancetta, English peas, morel mushrooms and tarragon—all coming together in a modern creation that's executed flawlessly. Colossal size raviolis are generously stuffed with pea puree and doused with a masterful sauce that exudes all the classical elements of haute cuisine. With a hint of lemon and mint undertones, a full rich flavor shines through. We loved the texture of the mushrooms and pancetta that left us craving more.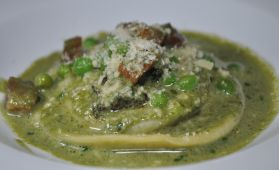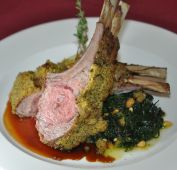 Next was the Herb Crusted Rack of Lamb that was both aesthetically and tastefully perfect. The two double cut chops were impressively large and cooked to perfection with a rosy pink center that's counterbalanced by the herb crust of the tender melt-in-your-mouth chops. Crusted Dijon mustard and thyme were the prevalent flavor—however, the red wine sauce was absolutely divine as it was just the right amount to flatter the lamb. Alongside was spinach that's sautéed in garlic and punctuated with pignoli nuts and golden raisins. The velvety smooth mashed potatoes are a classic side dish that we all loved.
Our mouths were watering when we caught a glimpse of the Pan Roasted Halibut that's prepared with braised artichoke, snap peas and morels along with an artichoke puree that is just heavenly. Flakey, white and undeniably delicious moderately describes the fish that rests on a pool of artichoke puree. It's a combination that that was unprecedented with flavors that complement each other in the most unique way. It went together so well we couldn't imagine ever having to do without it ever again.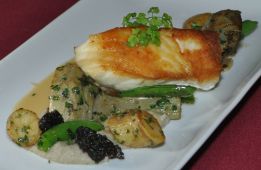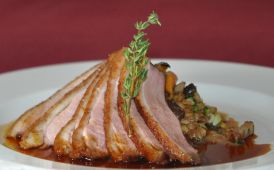 The Crispy Duck Breast is a specialty dish that can't be passed up. The chef hit a home run as he ingeniously created a powerful explosion that begins with tender succulent slices of duck that's encrusted with toasted faro. The duck was paired with a medley of goodness including shitake mushroom, baby carrots and port-soaked cherries that expertly renders a whisper of sweetness in every bite. The smoky viscosity of the demi-glace sauce accents the duck perfectly.
Our final entree was the Pappardelle Bolognese—so extraordinary it left us speechless. Homemade paper thin pasta ribbons were so light that they married wonderfully with the richness of the classic veal ragout. With just the right touch of seasoning, the delicate flavor of the tomato quietly enhanced the sauce dramatically. It is no doubt that every pasta dish envies to be this tasty.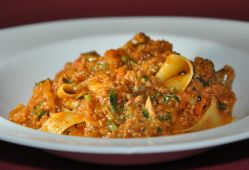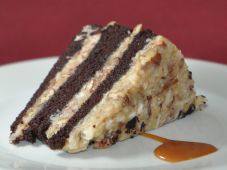 It was time to shift from savory to sweet and what better way to do so than with German Chocolate Cake—a sinfully blissful selection. The sweetness of the cake is modest and is a spot on interpretation of the classic coconut and chocolate pairing. And, for a twist, the pecans are a nice addition for texture and crunch. It was a trifecta of magnificence—moist, dense and absolutely decadent. This one is sure to have you wanting for more!
We also tried their traditional cheesecake with a delicious graham cracker crust and drizzles of raspberry sauce. However, the finale was a dream come true. Who would have thought of a better combination—butterscotch pudding and salted caramel sauce? Layers of goodness that's velvety smooth with a sweet and savory contrast—once again, ingenuity at its best.
There is no doubt that La Marmite covers the gamut with the most impeccable service, elegant atmosphere, fascinating menu and finest cuisine to say the least. It's an experience that no one should ever do without. With its many dining rooms both large and small, it becomes a perfect place for any occasion.
Overall Rating: Magnificent

Cuisine: French-American

Ambiance & Décor: Old World Elegance

Prices: Lunch $18 - $35, Dinner $30 - $50

Website: La Marmite