The Essence of Culinary Goodness
Near or far, diners continuously flock to Rialto Restaurant of Carle Place for its pleasant atmosphere, gracious service and contemporary style American and Mediterranean dishes. Owners Mario and Tara Fuentes' recent renovation transpired their family eatery into the perfect place for any occasion from a romantic evening for two to large sized gatherings.
We got a warm and inviting feeling when their friendly staff welcomed us immediately. Upon entering you will find the "Wall of Fame", a photo montage of guests, family and friends all embracing their memorable experiences at Rialto. While the bar was elegantly decorated with glass tiles and granite, the dining room's ambiance presented striking chandeliers and a touch of authentic Old World charm with attractive wall art including Venice's Rialto Bridge. Beautiful archways divide two dining rooms to create an open environment. Aged wainscot along with a subtle textured animal print wall covering create a resplendent look while the elegantly tailored tables foster ultimate sophistication. Aside from the renovation, the one thing that is indigenous is the consistently superb cuisine and the unique specialty dishes found on the extensive menu.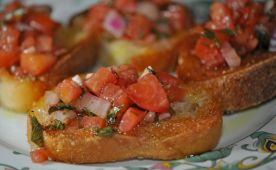 We were pleased when they delivered us a few complimentary offerings for the table, beginning with a basket of fine breads that were warm to the touch. A plate with chunks of Pecorino Romano cheese and Kalamata olives set the stage for what was to come—Bruschetta—a flavorful Italian tradition with chopped tomatoes, onions, garlic, olive oil and a touch of vinegar that rest on crispy mini toast.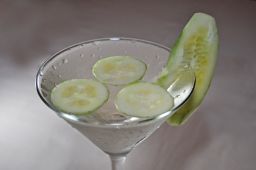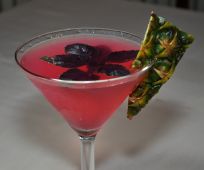 Delicious libations were a perfect overture to our meal. We sipped on a variety of martinis including Blood Orange, Mango, Limoncello, and the infamous Dirty Martini—a tasty concoction that included three stuffed blue cheese olives wrapped in Prosciutto de Parma. The classic gin and cucumber cocktail is delightfully fresh with every sip.
New to the menu is the Fresh Kale Salad that offers a wealth of health with pumpkin seeds, cranberries, goat cheese, Granny Smith apples and a yogurt vinaigrette dressing. Not your ordinary plate of salad, this one has aesthetic appeal as it is molded into a tower and drizzled with white truffle sauce for a hint of sweetness.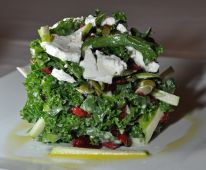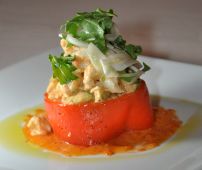 Healthy doesn't have to be boring and the Roasted Red Pepper with Crabmeat and Avocado is no exception. The pepper, perfectly ripe, is used as a vessel to hold a blend of lump crabmeat and avocado that's tossed with a champagne vinaigrette dressing and topped with fresh greens and shaved fennel. We absolutely loved the melt-in-your mouth buttery texture of the avocado and the sweet taste of the crabmeat—not to mention the artsy presentation.
To share or not to share was the question when the Homemade Ravioli with Porcini Mushroom Sauce arrived. A unique combination of braised cauliflower, pear and moscone cheese fills the oversized raviolis. While the pasta is precisely cooked al dente, the real star of the show is the mushroom cream sauce that erupts with extravagant flavor in every bite. Whether ordered as a main entrée or as an introduction beforehand, we deemed this sauce so terrific that some must be saved for a little bread dipping.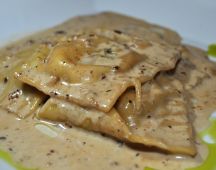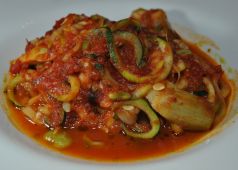 For the health conscious and vegetarians out there, the Zucchini Linguine is just the right choice. This gluten-free dish is chock full of nutritious veggies including artichoke hearts and lima beans all tossed with a fresh tangy tomato marinara sauce. Shoestring cut zucchini replaces traditional pasta making this entrée carb-free!
The excitement really intensified when it was time for the Macadamia Crusted Halibut—one of the chef's specialty signature dishes. It's an impressively generous portion that's ever so white and flakey and unequivocally mouth-watering. The halibut is cloaked with a super-seasoned macadamia crust that enhances the natural goodness of the fish. And if that weren't enough, a pool of Porcini mushroom sauce with a splash of extra virgin olive was added to create an explosion of flavor. The meal is complete with asparagus, baby carrots and fingerling potatoes.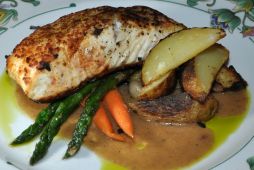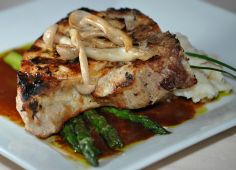 Next in line was the double-cut pork chop that was flawlessly cooked—tender and juicy just the way it should be. At first glance we were captivated by the perfect grill marks and its thickness. And, after just one bite, we knew there was something special about this dish—the smoky sweet brown sauce that is nothing shy of extraordinary. The chop was accompanied by a hearty portion of mashed potatoes and a medley of asparagus spears and carrots.
Who can say no to dessert when a smorgasbord of sweets is delivered right to your table? The rolling dessert cart is brimming with every decadent delight imaginable.
Our first post-dinner indulgence was Rialto's own version of Zuccotto—a traditional Italian treat that's filled with chopped nuts, cream, coffee, sweet amaretto mousse and embellished with chocolate drizzle. With its light and creamy texture, there won't be a smidgen left on the plate. This is one item on the menu that should never be passed up.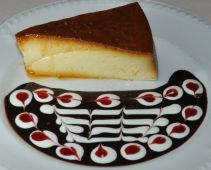 Another favorite is the fabulous Flan that rests on a work of art. It's all about the details as this intricate design is created with a pool of chocolate that's dappled with dollops of white sauce and ribbons of raspberry topping. From the unique artistry to the traditional style custard, this world-class Flan is one to love!
Everyone loves homemade gelato, especially when it is served quite elegantly in a martini glass. A trilogy of wonderfully cool fruit flavors including mango, raspberry and tangy lemon tart with natural bits of lemon zest are all smooth and creamy. Rialto hits a homerun as they captured the truest most intense flavors right here on premise.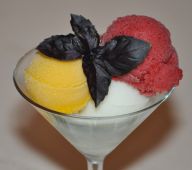 Our last guilty little pleasure was Affagato—a coffee based beverage with vanilla ice cream combined with amaretto and espresso all foamed up into a frothy dessert drink—an interesting twist on the conventional root beer float. Simply irresistible!!
Rialto Restaurant is one place where you could come back to over and over again and always be satisfied no matter what the craving du jour is. With their impeccable service along with the many sweet and savory selections, this neighborhood haunt lives up to its highly regarded reputation. At Rialto's, the motto is "Good Food Good Friends", with of course, good reasons.
Overall Rating: Superb

Cuisine: American & Mediterranean

Ambiance & Décor: Intimate & Charming

Prices: Lunch $10 - $15, Dinner $20 - $40

Website: Rialto