Culinary Artistry At Its Best
When one of Long Island's most highly revered chefs is paired with a spectacular picturesque setting, there is only one outcome—a delightful and unforgettable experience. Situated on the Glen Cove Golf Course overlooking the Long Island Sound resides The View, a name that speaks for itself. Upon entering, we knew we were amidst elegance as the wine and spirits lounge unfolded with warm tones and rich woods that perpetuated throughout the main dining room.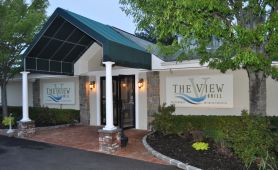 Executive Chef Jeanine DiMenna—a Glen Cove native—took the town by storm with her exclusive dishes that could never be found anywhere else. With many honors such as The People's Choice Award, Toast of Town, and of course, the Long Island Food Critic Award, this critically acclaimed chef raised the bar for excellence. And, one of the highest honors of merit—The Food Network—has even recognized her talent on the TV series Kitchen Casino.
We were charmed when we were greeted by the chef herself as she was eager to please us with so many of her most ingenious creations. The menu is a trove of unique selections from appetizers to desserts with a whole lot in between. While the appetizers, soups and salads had mouth-watering appeal, the steaks, chops, chicken and ocean delicacies all jumped off the page.
We were off to a good start when our waiter served us our first offering, Korean Barbecue Shrimp with Sweet & Spicy Sauce over Pickled Vegetables (below left). The shrimp were served on skewers and presented with an artistic smear of moderately spicy Korean BBQ sauce—the chef's own special recipe. We were not surprised at all when we discovered just how fresh and snappy they were. A fine medley of julienne carrots and zucchini are pickled in an effort to curtail the heat of the sauce—what a fresh and healthy way to soothe the palette!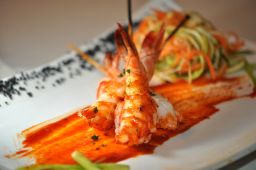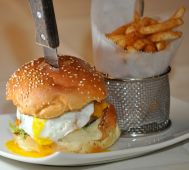 Chef De Cuisine Jenna Rocco, really outdid herself with her latest endeavor, The Bombshell Burger (above right), a masterpiece so special that it won't allow itself to be ignored as it captured the attention of many upon delivery. Not your usual burger, this one is beyond impressive with its stack of goodies all tucked away under a toasted sesame bun. It was thick and juicy with lettuce, tomato, cheddar cheese and even a Sunnyside egg all layered and topped with "Bruce's Bad Ass Barbecue Sauce—another innovative creation that deserves attention with its sweet flavor that's tempered with crumbled bacon. Crisp and crunchy French Fries were a nice traditional accoutrement that we all enjoyed. Move over supermodels, there is a new bombshell in town and this is one sexy burger!
Another nibbler we selected was the Calamari Wonton Rolls with Marinara Sauce (below left). It was an eccentric twist on the typical seafood cake with an influence of Italian and Asian cuisine. Crispy wonton shells are overstuffed with chopped calamari, Panko breadcrumbs and a plethora of seasonings that revealed a subtle yet spicy kick. It's the perfect prelude to any main course.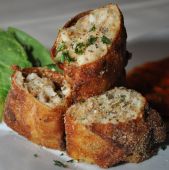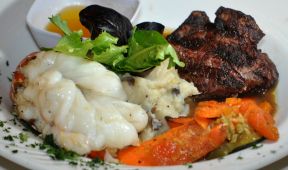 It was love at first sight when we feasted our eyes on the Surf and Turf (above right). The uber tender slow–butter–poached lobster tail is partnered with a fabulous melt-in-your-mouth filet mignon that's grilled to perfection—a flawless combination that would rival even the finest steakhouses. Alongside you will find a mix of garden vegetables and a heaping portion of hearty rustic mashed potatoes that burst with flavor. And of course, drawn butter was included as the meal would not be complete without it.
Just when we thought things couldn't get any better, the Rack of Lamb (below left) was bestowed upon us. They were presented as individual baby lambsicles that were bathing in the most sublime rosemary garlic sauce. Tender, succulent and full of zest only modestly describes this classic yet distinctive entrée. The chops were juxtaposed with svelte slices of portabella mushroom along with a side of chunky mashed potatoes.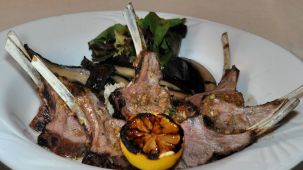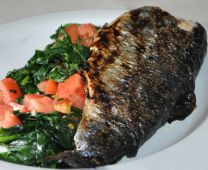 Following was a whole Wood-Grilled Trout (above right) that was as fresh as could be. The magnificence of the fish meets a celebration of fresh herbs in every bite. The trout was accompanied by a delectably delicious blend of spinach and tomatoes that had a gentle flavor not to overpower the main event. This dish is an excellent choice for all you fish lovers out there.
Food art comes to life with the Poached Pear Salad (below left). This artisan delight is a deconstruction of the popular tossed salad. The whole pear is soaked in grenadine not only to provide a sophisticated flavor, but to bounce off the plate with color. The mixed garden greens are presented within a cucumber ribbon that is tailored beautifully. On the side there are candied walnuts that are less of a garnish and much more of a sweet treasure that features a nice crunchy texture while offsetting the tanginess of the crumbled blue cheese.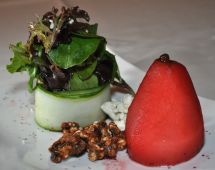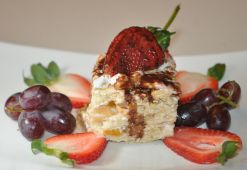 The moment we all waited for finally arrived—dessert! Pastry chef Millan brought us a taste of his home country Belize with his own interpretation of the Cold Cake (above right)—or otherwise known as the unbaked cake. A concoction of Maria cookies, fruit cocktail and cream makes this dessert a dream come true. It is light and airy with just the right amount of sweetness and texture. And, for a splash of color, the plate is adorned with fresh strawberries and red grapes.
It was time for the finale and Flan (below) it was. Unlike your usual super sugary version, this one is a subtlety sweet yet intoxicating variation of the traditional Flan. Pretty enough to eat, the plate is delicately clad with cream rosebud florets that further enhance the presentation.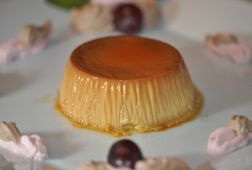 If you are in the mood for a relaxing afternoon lunch or an elegant evening dinner that projects beautiful scenery from every angle, then The View is the place to be. With a welcoming staff, warm and inviting ambiance, and of course outstanding cuisine, this reasonably priced restaurant has become one of Long Island's own little gems.
Overall Rating: Outstanding

Cuisine: American

Ambiance & Décor: Welcoming & Cozy

Prices: Lunch $9 - $15, Dinner $18 - $29

Website: The View Grill